* * * VISIT THE MAY FAMILY ARCHIVES FOR PHOTO CHRONICLES * * *
You'll see some historic family snapshots. If you have photos to add, they're welcome!
May Party 2002 (page 1) May Party 2002 (page 2)

The remainder of this page features photos of the infamous May Party 2000, for your entertainment pleasure.


May Family Party 2000: OK, so it was a little wet...
Thanks to all who attended, a few drops of rain didn't dampen our spirits! . . . .
A word from your hosts:

Dear family,
We want to thank all who braved the elements to attend our May family reunion last Saturday. 115 attended (plus any others who somehow missed signing in) [representing at least 10 states]. FYI, the rainfall that day amounted to 6 - 10 " (depending on whose rain guage was most accurate), and this atop a cloudburst the preceding day, making this perhaps the wettest reunion ever. Nevertheless, the enthusiasm was amazing, and despite the trashing of all our best laid plans for that day, we hope that all enjoyed the "togetherness" of the occasion.
Thank you all for your cooperation, good humor, the wonderful array of goodies, gifts and shared memories you brought. We are still finding "mementos" of the occasion - left behind shoes, umbrellas, hats, ponchos etc. All will be kept for reclaiming later.
Come visit us when you can, and "think 2002".
Ed and Claire Christensen
845 647-6168



"Welcome to the party!"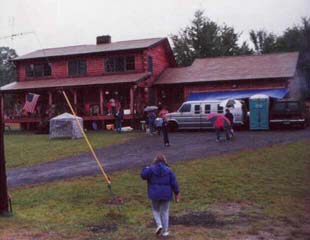 Cars were parked everywhere...... The weather caused congestion in the "unloading zone."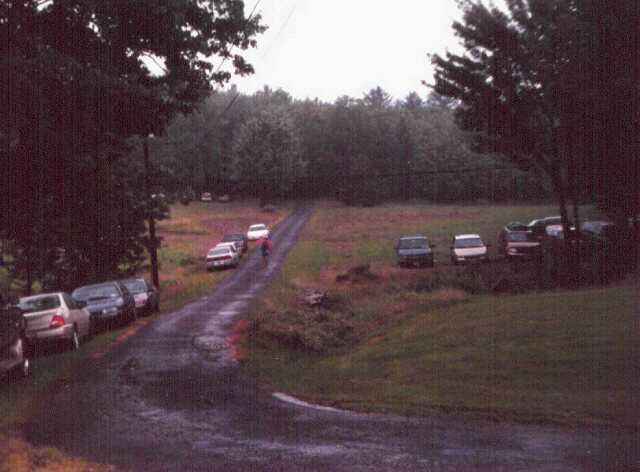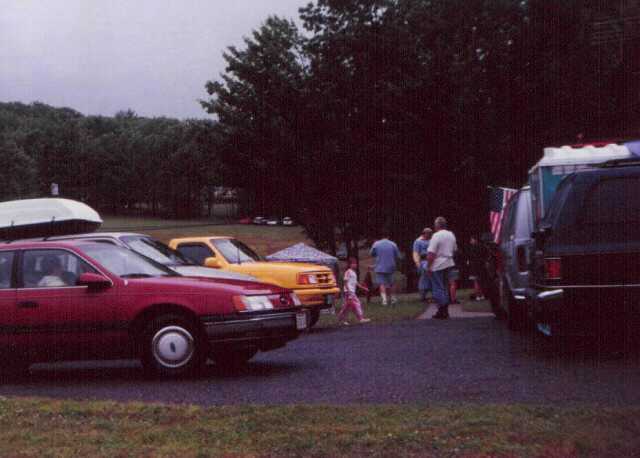 The porch was a popular (and dry) haven.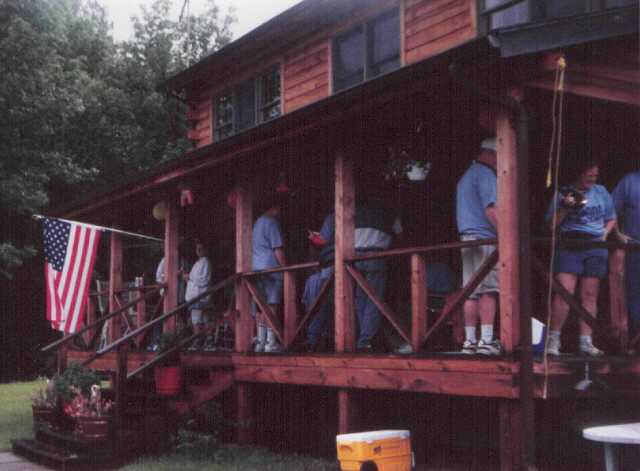 Everybody's posing for pictures, including Dad and my niece Megan.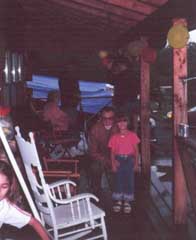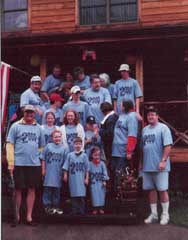 Say hello to the chefs: Big Jim and Steve. They kept everyone happy!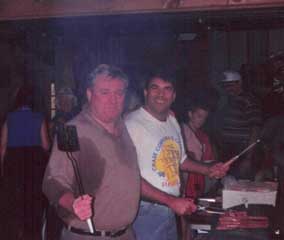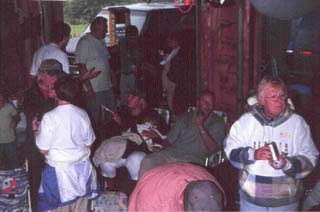 The garage was as crowded as a nightclub, but there were smiles everywhere.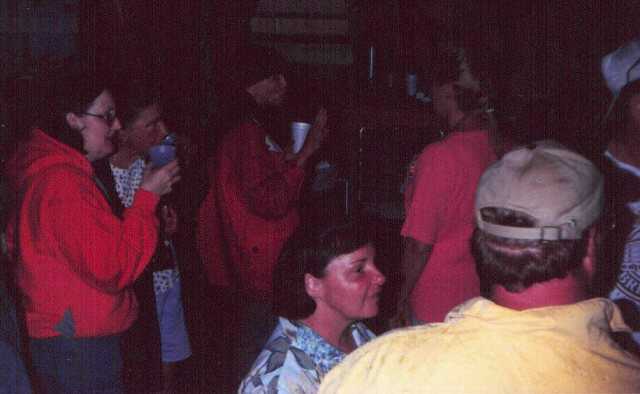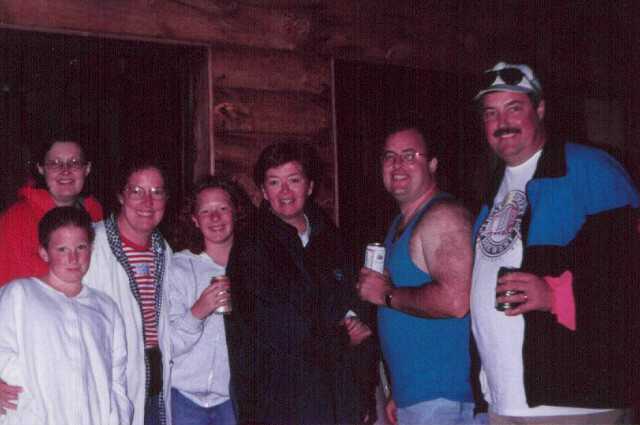 More smiles, more soggy cousins...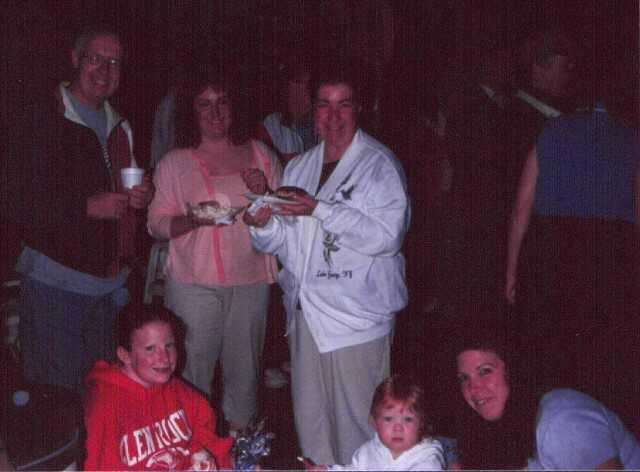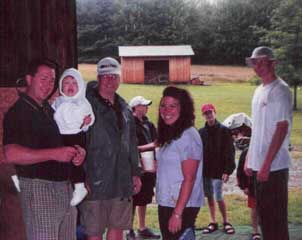 The barn was a less crowded alternative to the garage area, but food and drink had to be imported.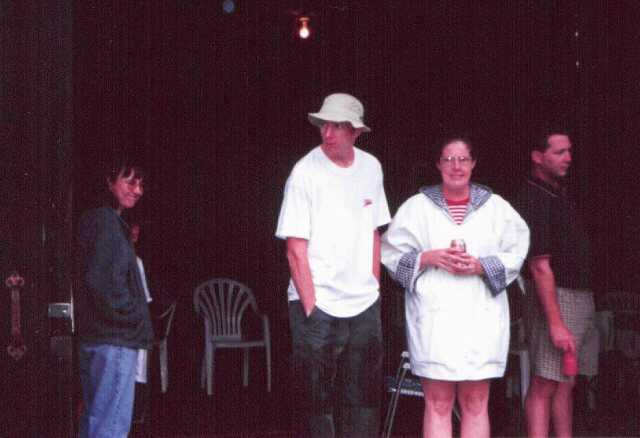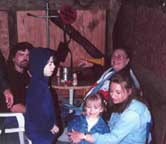 When the downpour eased to a sprinkle, a tour of the Farm started at the "front" pond...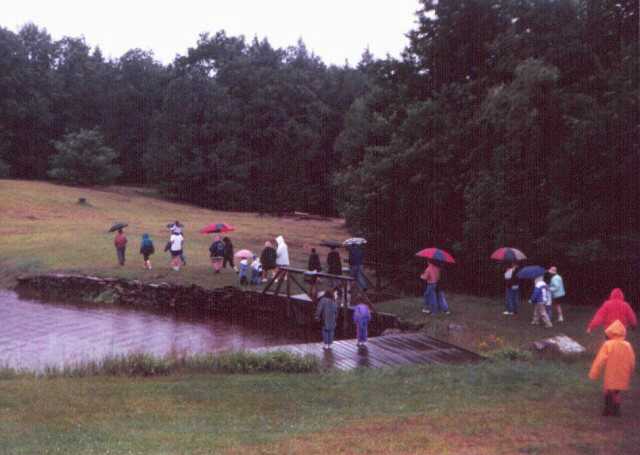 Umbrellas abounded as we visited the "back" pond.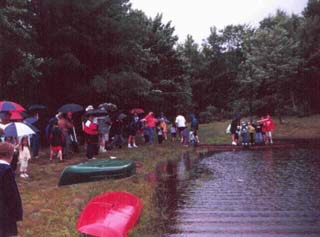 Chris and Barbara Zona chat with Steve.... Your humble webmaster poses with his dad and cousin Chris.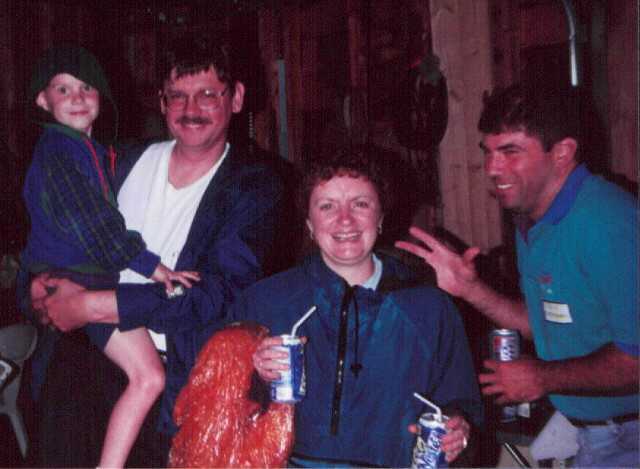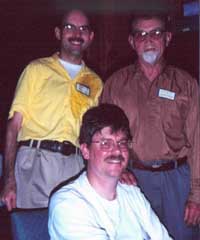 Just imagine a warm, sunny day...... A campfire was lit when the rain let up. Wouldn't you know that just after many had departed, it stopped raining and we were able to build a fire for marshmallows and Steve even gave some motorcycle rides!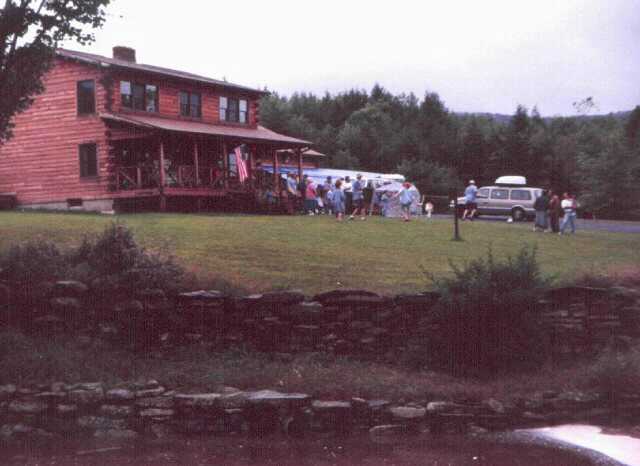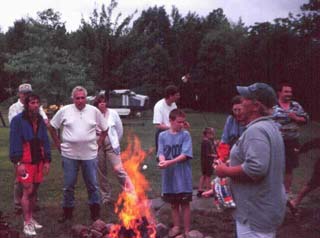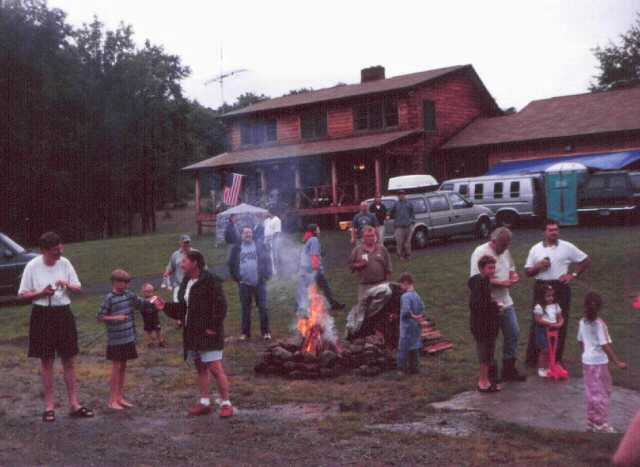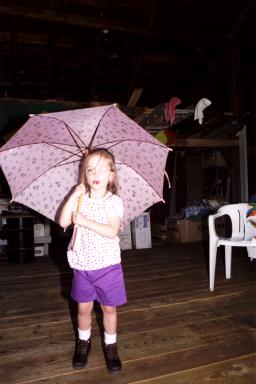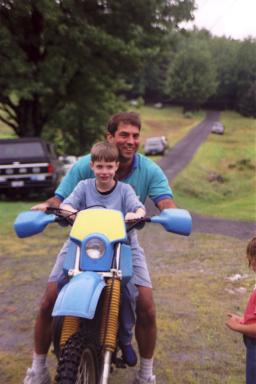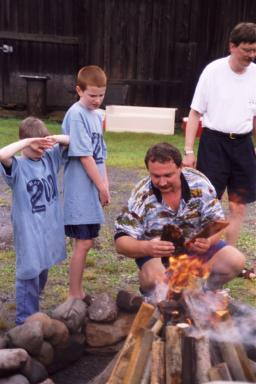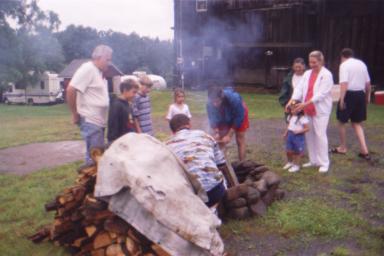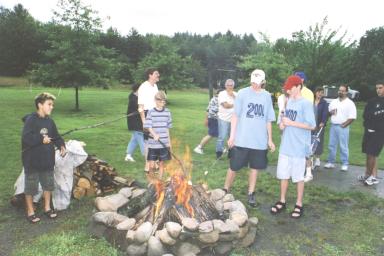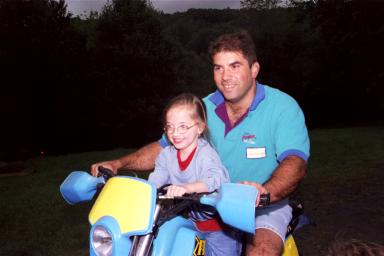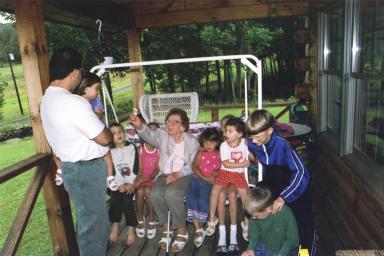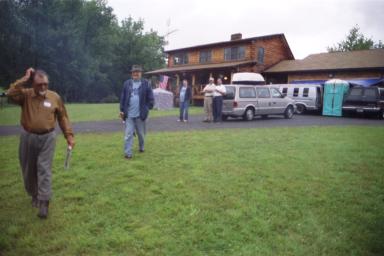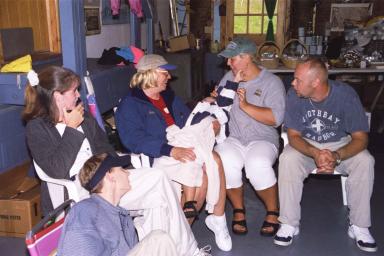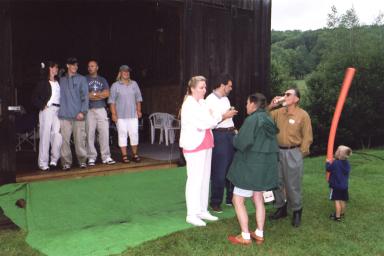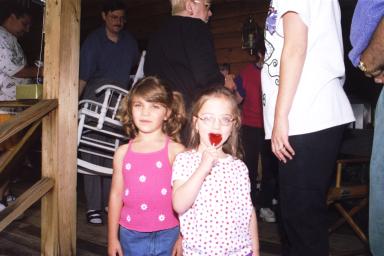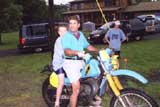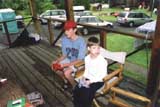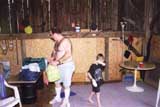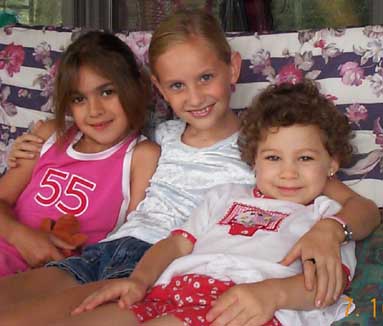 Your hosts, Ed & Claire..............party supplies staged in the basement.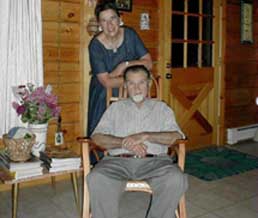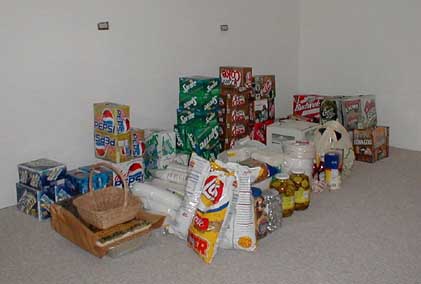 More motorcycle madness: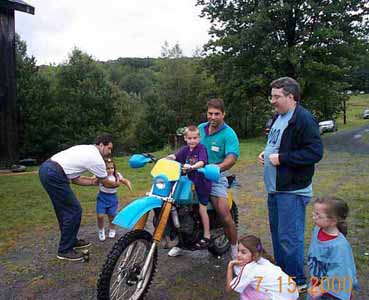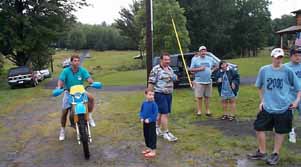 More bonfire: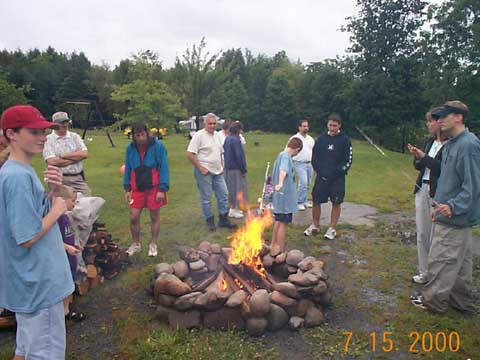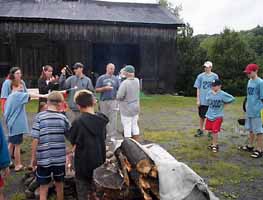 The choice: shelter in the barn, or warmth near the fire...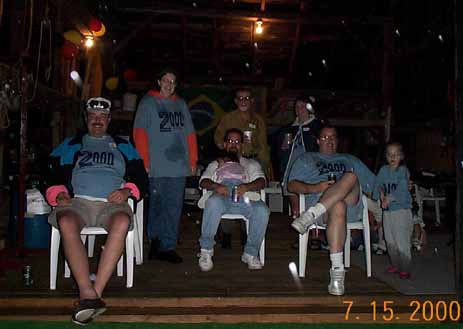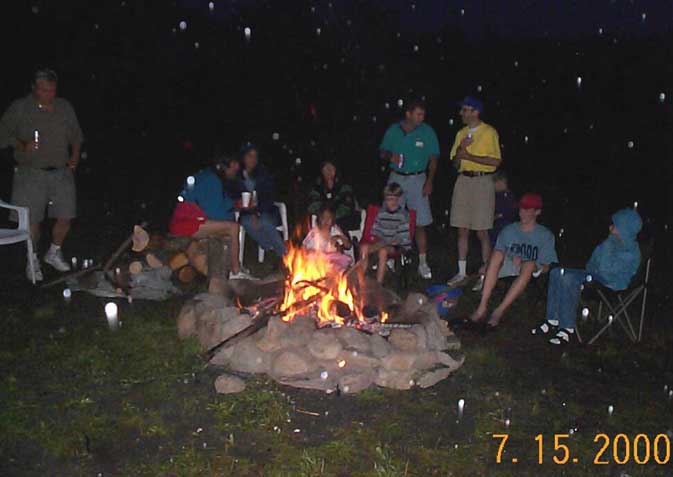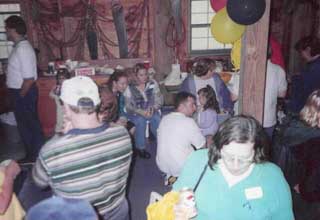 Cousins: [front] Ken, Tina, Lorraine, Bernadette, Ronnie
[rear] Steve, Maria, Madeline, Alan, Eric......Ray was wandering around in the rain...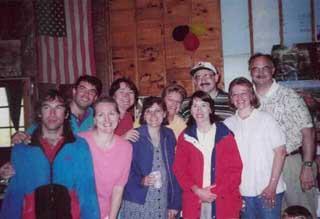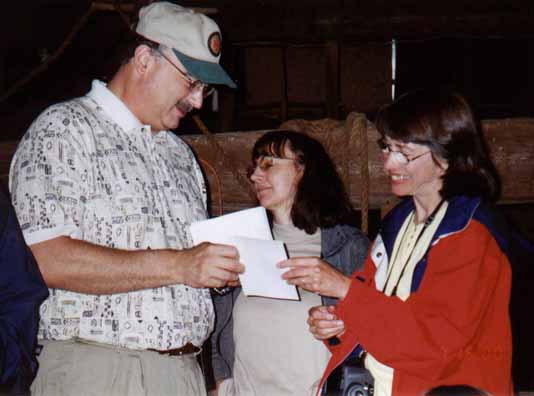 More of the grand tour...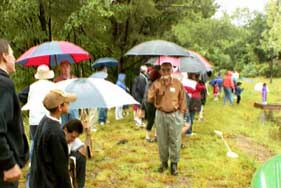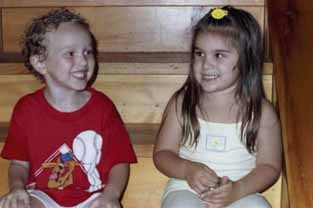 Pond activities provided some fun for the kids...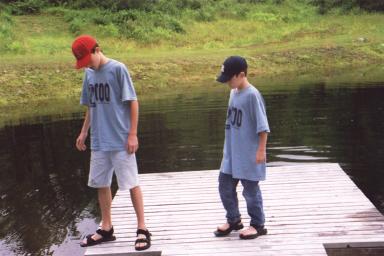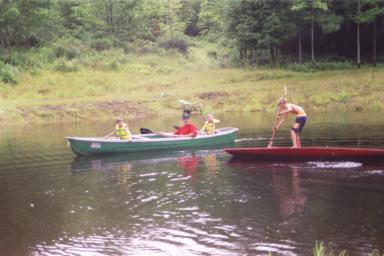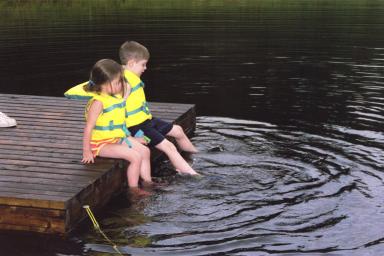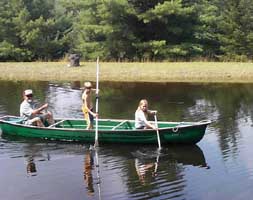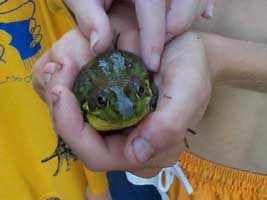 The day after, the sun came out...Granny Christensen with her grandkids + Sexy Granny!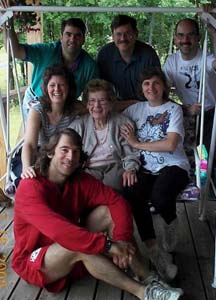 That was fun!


Great weather for first anniversary of 2000 May Party
It was cool and partly cloudy on the weekend of 7/14/01 for a mini-reunion of the Christensen family. Lorraine & John were up from NC with their lovely daughters Arianna (3) and Kaylin (9 months). Steve & Gina came up with Nicole (7) and Megan (5) to fill up the house with sweet little girls. Your Webmaster was lucky enough to have his own room -- near the front door, in case things got crazy.

Some highlights:

Kaylin is almost walking, and especially enjoyed chewing on her cousin Megan's nose.
We found time for hiking, boating, volleyball, beer drinking, and even a quick dip in the pond. (all the stuff we had planned for last year's big party!)
Saturday evening's entertainment was toasting marshmallows with a big bonfire.
The kids would have been happy to remain on the swings 24/7.
Nicole and her Uncle Ray each got stung by a couple bees. Arianna had been stung on the previous day.
Mom & Dad found time to go out and buy a new car!
After church on Sunday morning, we made the All-American stop at McDonald's in Ellenville, where we wished the Kleins a safe journey back to Charlotte.
We hope you're enjoying a pleasant summer. Should we go for another big reunion next year?


any hard copy or e-mailed photos of your family to put on this page (or the "Archives" page). Feel free to also add a few remarks. I can also provide a link to your email address if you like.
Hard copy photos can be mailed to:

Ray Christensen
2630 Crossgates Drive
Wilmington, DE 19808

They will be returned as soon as I scan them.
To e-mail photos, click on the envelope at the bottom of this page.

From left: the Eric May family, the Chris Zona family (Christensen side)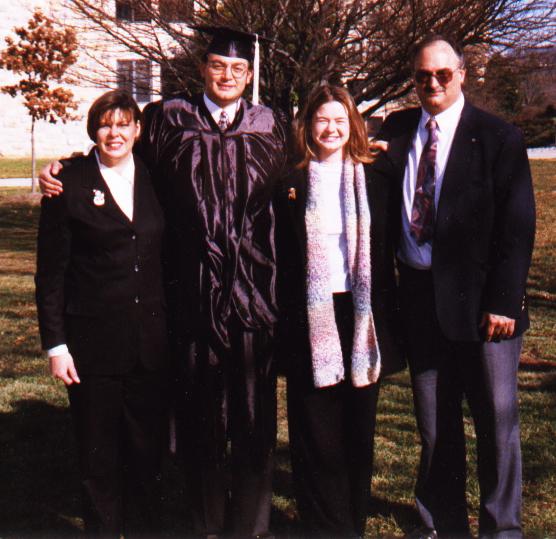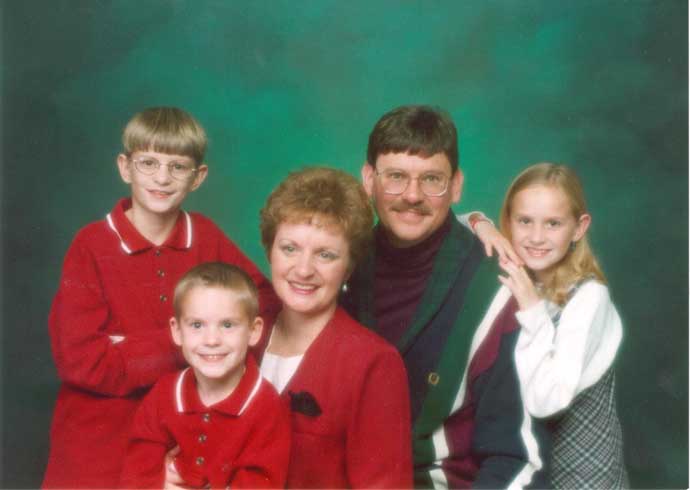 From left: the Steven Christensen family, the John Klein [Lorraine Christensen] family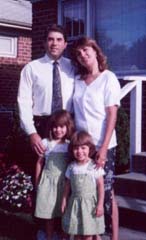 Submit your photo and be a star!

Links to Ray's other websites:
Family Links
May Family Home
May Family Reunion 2000
May Family Reunion 2002
May Reunion 2004

Home | The 60's | The 70's | The 80's | The 90's | 21st Century | Beauty | Map of land
Directions | May Family Reunion | May Family Archives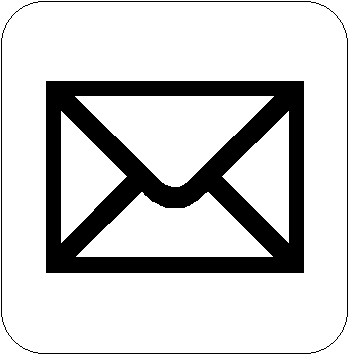 Contact the Webmaster (Ray)
. . . . . . . . .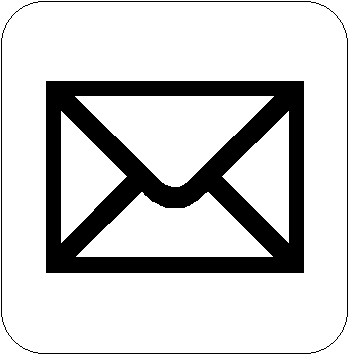 Contact Claire & Ed at the Farm