Directions to The Farm

FROM NEW YORK CITY AND SOUTH: . . . see maps below
Take the Thruway to route 17 north.
Exit at route 209 north and drive approximately 16 miles, going through Ellenville and into Napanoch.
Make a left onto route 55 (west) (immediately after crossing a small bridge), driving about 5 miles to where route 55A splits off to the right.
Take 55A about 5 miles (Rondout Resevoir will be on your left), looking for Lackawack Hill Road on the right side.
Climb the hill (less than a mile) and bear right. You will see The Farm in a valley on the right side of the road. Turn right at the "Christensen Farm" sign.
C'mon down the driveway and put your work clothes on!

FROM THE NORTH:
Take the Thruway to Kingston exit, then route 209 south to Napanoch.
Make right turn onto route 55 west, and see directions above, starting at route 55.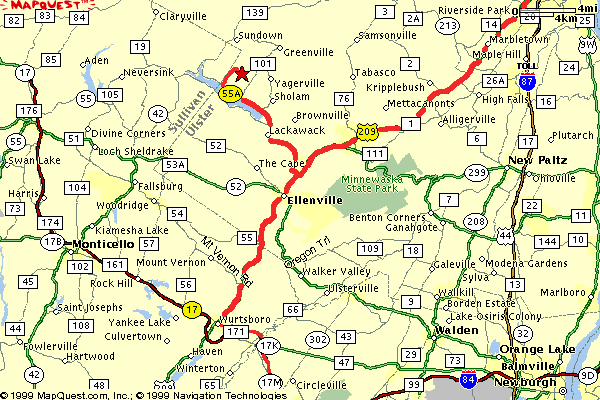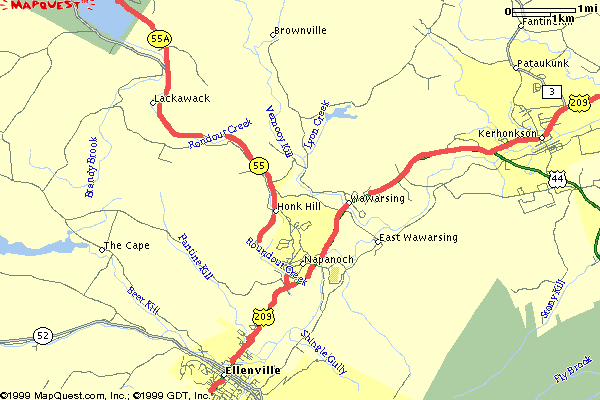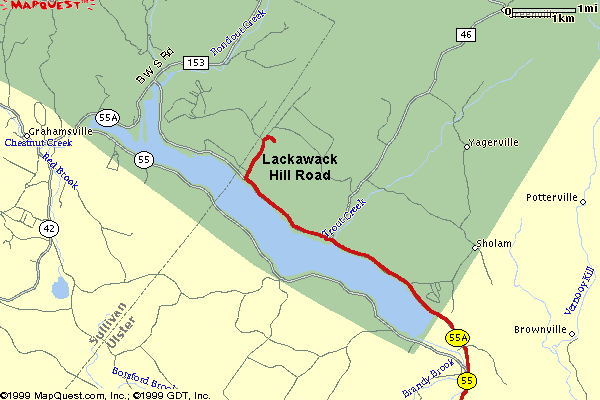 NEARBY MOTELS
Kerhonkson:
----- which is about 15 mi. from farm.
Colonial Motel (914) 647-7575 On Rt. 209, 3 mi. n/o the intersection of 209 &55W in Napanoch. Rough price for 2 double beds in room in July is $70.00
Chelsea Motel (914) 626-3551 - 1 mile east of 209 on route 44-55
Continental Motel (914) 626-4000 - 1 mile east of 209 on route 44-55

Wurtsboro:
----- which is about 30 miles from farm
Days Inn - Wurtsboro Rt. 209 just north of Wurtsboro- 21 Perron Drive (914) 888-2727 or 1-800-329-7466 $110.00

Liberty:
----- which is about 20 miles from farm.
Days Inn (914) 292-7600 or 1-800-329-7466 Rt. 17 and 52 Approx $95.00
Budget Inn (914) 292-6620 Rt. 52 and 55 (no price)

Kingston:
----- which is about 35 mi. from farm or 25 miles from the Rt 209 and 55W intersection on Rt. 209. All of these are clustered around NYS Thruway exit 19 on Rt. 28
Holiday Inn (914)338-0400 $129.00 per nite, 2 nite min. on weekends
Super Lodge (914)338-4200 $80.00
Ramada Inn (914) 339-3900 (no price)